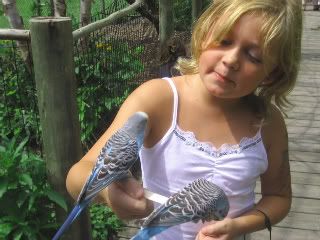 Yesterday I decided that since the weather was just perfect we needed to get out and run around a bit. I surprised Emma and Victoria and took them to Van
Saun
Park. After getting ready, I packed us a nice lunch, drinks and snacks and off we went. They were so excited to go see all the animals. One part of the zoo is screened off and filled with budgies (parakeets). I bought each girl a feeding stick and they got to hand feed the birds. Emma was a bit nervous but not Victoria, she had 2 and 3 birds feeding at a time.
Of course
, I had to take a ton of pictures. After lunch we looked at the last few animals and headed over to the gift shop where they each got a pair of safari binoculars. Emma is thrilled with them especially after Victoria taught her how to use them. Next we took a ride on the train around the zoo and you can never go here without going on the beautiful Carousel. Victoria rode a dragon and Emma chose a mountain goat. I guess you can ride a regular horse anywhere.
lol
Outside the zoo, they have 3 parks... one for toddlers and 2 big kid play areas. After about 6 hours of fun, it was time to go home. I told the girls that I haven't enjoyed them this much in a long time. No fighting, no pushing and for me no yelling... it was heaven! Since they were so good, I told them that we can go back once a week and they were so happy.