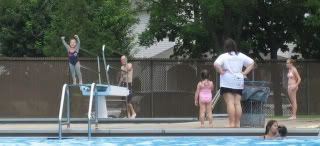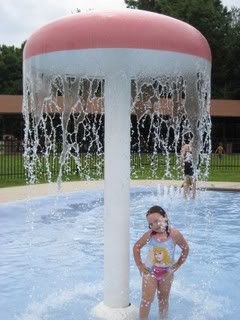 Good Morning! I can't believe it is Friday already!
Yay
, tomorrow we are going to Sandy Hook Beach.... we can't wait. The weather has been so unpredictable lately and it seems like
everytime
with think it is going to rain, we put off our plans then it doesn't rain. I decided to take a chance and bring the girls to the
Secaucus
pool on Wednesday. It actually felt a bit chilly while we were there but as you can see from the pictures, the girls had a blast! Sara's friend (my "other" daughter, Jaimie) tagged along. She is so great with my little ones. The girls made up nick names for each other.... They kept the first letter of their name and added
ermie
to it. So we have,
Sermie
,
Jermie
,
Vermie
and
Ermie
. They actually got me calling them by these names...
LOL
Yesterday, the weather was perfect so I took Victoria, Emma and Victoria's friend Gabby to the park then back home to go in our pool until dinner. Victoria and Gabby both had to leave to go to cheering practice so Emma had the neighbor, Ashley come over to swim. All in all, it was a good day. I hope you all have a great Friday. No humidity again so more outside fun in the pool today! Sara has to go to work at recreation, today is splash day.